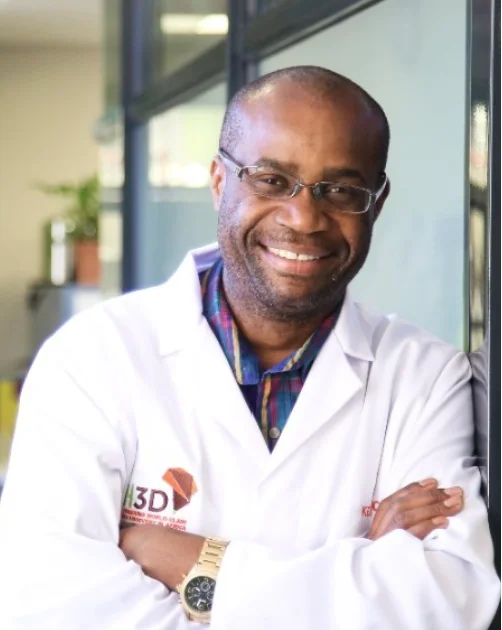 ---
We are excited to confirm that Professor Kelly Chibale will give the First Principal Lecture at the 65th LIYSF. Professor Kelly Chibale is Professor of Organic Chemistry at the University of Cape Town (UCT), South Africa and is Founder and Director of the pioneering Holistic Drug Discovery and Development Centre at UCT, with over 90 researchers. He is also Editor-In-Chief at ACS Medicinal Chemistry Letters.
In 2018 he was recognised as one of Fortune magazine's top 50 World's Greatest Leaders. His research focuses on target-directed inhibitors. He was awarded the 2023 The Royal Society Africa Prize, for exceptional leadership and groundbreaking work in drug discovery for African endemic diseases. His lecture at LIYSF is entitled, 'Scientific innovation and entrepreneurship through the lens of medicines discovery: an African perspective'
His reaserch group cheifly researches tuberculosis and malaria and already has a potential drug for malaria in human trials, with the hope that they can contribute to a global pipeline of new medicines able to circumvent drug resistance.
He is inspired to confront Afro-pessimism and debunking the myth that Africa could not be a source of health innovation. Around only 2% of global clinical trials are carried out in Africa and of these, half of this number are done in either South Africa or Egypt. Thus meaning that for hardly and of the drugs administred in Africa are optimised for African patients. Genetic differences and variations in lifestyle and diet between Africans and those whom the drug was trialled on (typically European or North America), means that the medication can be less effective and could even be dangerous. Professor Chibale is working hard to address this and stated, "we need to demonstrate that Africa has more to offer than the mere opportunity for human clinical trials. Africa has largely been a recipient of Western research. It is time for Africa to also contribute research so that people from other continents can also benefit. The challenges we are trying to address in Africa are not just African challenges, but human challenges. In this way Africa can earn respect. Research is not a luxury. It provides solutions, creates jobs and infrastructure, builds capacity as well as expertise, attracts foreign investment, can seed an industry and contributes to reversing the brain drain".
He is also a Full Member of the UCT Institute of Infectious Disease and Molecular Medicine, a Tier 1 South Africa Research Chair in Drug Discovery and founding Director of the South African Medical Research Council (SAMRC) Drug Discovery and Development Research Unit at UCT.
He was born in Zambia and he obtained his PhD in Synthetic Organic Chemistry from the University of Cambridge, UK. He conducted postdoctoral stints at the University of Liverpool, UK and at the Scripps Research Institute, USA. He was a Sandler Sabbatical Fellow at the University of California San Francisco, USA, a US Fulbright Senior Research Scholar at the University of Pennsylvania School of Medicine (USA) and a Visiting Professor at Pfizer in the UK.