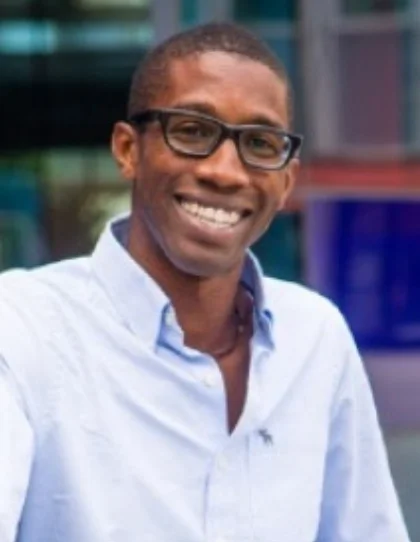 Professor Christopher Aiden-Lee Jackson
---
Professor Christopher Jackson is a British geoscientist, science communicator and is the Director of Sustainable Geoscience at the Jacobs Engineering Group. He is also a visiting Professor at Imperial College London. He is renowned for his use of 3D seismic data to understand dynamic processes on a sedimentary basis, in geoscience.
In 2020 he jointly presented the Royal Institution Christmas Lectures on British television, becoming the first black scientist to do so. He has appeared on BBC Radio 4 programmes The Infinite Monkey Cage and the Life Scientific, as well as hosting his own podcast,  A Grown Up Guide to Planet Earth. He has spoken at many major science festivals. 
He has published more than 100 papers and has been cited thousands of times since he received his Ph.D. in 2002. He was previously a Professor of Sustainable Geoscience at the University of Manchester and also the former Equinor Chair of Basin Analysis at Imperial College, London. He is a visiting scientist at the Bureau of Economic Geology at the University of Texas at Austin. He obtained his BSc and Ph.D. at the University of Manchester. He worked as an exploration research geologist in the Equinor research center, in Bergen, Norway. His work at Imperial focuses on using traditional fieldwork techniques and seismic reflection data to study the tectonostratigraphic analysis of sedimentary basins.
In addition to the GSA Distinguished Lecturer Award, he was also the recipient of the Bigsby Medal awarded by the Geological Society of London and subsequently the Coke Medal. He has received a number of prestigious awards, which include the President's Award for Excellence in Societal Engagement at Imperial College and the Roland Goldring Award, from the British Sedimentological Research Group. He is an Honorary Fellow of the Geological Society of America
Chris is actively engaged in efforts to improve equality, inclusivity, and diversity in Earth Science, and Higher Education in general. We are thrilled to welcome him to lecture at LIYSF.