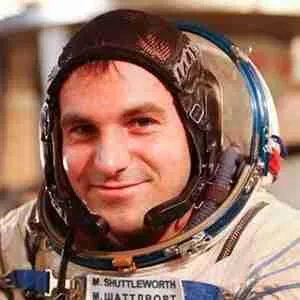 ---
Mark Shuttleworth is a South African-British entrepreneur who founded Canonical Ltd, the company behind the development of the hugely popular Linux-based computer operating system; Ubuntu. He is currently the CEO of the organisation and works as the product design lead. In 2002, he became the first South African and the first citizen of an independent African country to travel to space as a space tourist. Mark is also an alumnus of LIYSF.
Mark was born in Welkom, South Africa in 1973. He obtained a Bachelor of Business Science degree in Finance and Information Systems at the University of Cape Town in 1995. During his time as a student at the university, he became involved in the installation of their very first residential Internet connections. He was also awarded an honorary Doctor of Philosophy degree in 2002 by the university.
In 1995, he founded Thawte, an internet commerce security company and digital certificate authority from his parents' garage, while studying in his final year of his undergraduate. Just 4 years later, in 1999, he sold this company of his to VeriSign for a substantial R3.5 billion (which converts to about £400 million, or 620 million in 2021), making him an overnight millionaire!
In 2000, he founded HBD Venture Capitals (Here Be Dragons), a business incubator and venture capital provider, currently being managed by Knife Capital. The next year, he created the Shuttleworth Foundation to fund innovative leaders in society with a combination of fellowships and investments. As a philanthrope, and due to his passion for improving education in South Africa, he has invested millions through the Shuttleworth Foundation to improve access to and quality of education in his homeland.
In 2002, Mark flew to the International Space Station as a member of the crew of Soyuz mission TM34, after a year of training in Star City, Russia, for which he spent approximately £20 million of his own money. After running a campaign to promote code, science and mathematics to aspiring astronauts and other ambitious types at schools in South Africa, he started his work on Ubuntu.
In March 2004, he formed Canonical Ltd, for the promotion and commercial support of free software projects, especially his brainchild, the Ubuntu operating system. In December 2009, he stepped down as the CEO of Canonical Ltd and resumed his position in July 2017. Here is a list of highlights of his journey with Linux and FOSS (Free and Open-Source Software):
In the 1990s, Mark participated as one of the developers of the Debian operating system.
In 2001, as part of his Shuttleworth Foundation, he funded educational, free, and open-source software projects in South Africa, such as the Freedom Toaster.
In 2004, he returned to the free-software world by funding the development of Ubuntu, a Linux distribution based on Debian, through his company, Canonical Ltd.
In 2005, he founded the Ubuntu Foundation and made an initial investment of 10 million dollars.
In September 2005, he purchased a 65% stake of Impi Linux.
On 15 October 2006, it was announced that Mark had become the first patron of KDE, the highest level of sponsorship available. This relationship ended in 2012, together with financial support for Kubuntu, the Ubuntu variant with KDE as main desktop.
On 17 December 2009, Mark announced that he would step down as CEO of Canonical to focus energy on product design, partnership, and customers.
In September 2010, he received an honorary degree from the Open University for this work.
---