30 Jul, 2017 by Richard Myhill
Professor Hayat Sindi inspires the aspiring scientists through an incredible story
Students left the lecture theatre after the Opening Ceremony at the 59th LIYSF, filled with excitement and enthusiasm after watching an emotional, inspirational and thought-provoking keynote delivered by Professor Hayat Sindi from Saudi Arabia.
Professor Sindi developed an incredible story of personal challenges and courage throughout her life.
She was born in Mecca and was one of eight children, born into a traditional family. From a young age, Professor Sindi admired several scientists (including Marie Curie and Albert Einstein).
After finishing school she decided to move to London to pursue her passion for science. Despite not having any scientific experience, or even being able to speak English, Professor Sindi studied hard and became the first female from the Gulf to earn a PhD in biotechnology.
Since then, she has accomplished and achieved several applaudable milestones. Throughout her journey, Professor Sindi overcame various challenges as well as created some of her greatest achievements and she chose to share this very personal journey with our participants at the opening ceremony at LIYSF.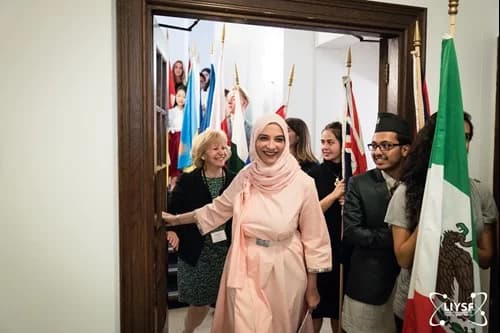 1. Don't blindly follow what other people are doing
Professor Sindi reflected on our human tendency to stick to what we know and to work that confirms old scientific paradigms:
"Sometimes we have too much confidence in old theories, and it makes us underestimate what we know and ignore experiments that don't conform."
"We have stopped being open to wonderful, powerful, and extraordinary ideas, but for the sake of the future we again need to be innovative and imaginative."
Professor Sindi made it clear that if young people really want to make a difference in the world, in science and in their communities, then they will need to think outside of the box.
Young people should question assumptions, and shake the foundations laid by the people who have come before.
"We have elevated the heroes of the past to such heights – it takes extraordinary confidence to think that one can do better."
"We all stand on the shoulders of giants, but we must be careful that we don't become dependent and blindly trusting of their work and theories."
2. Remain who you are and have confidence in your abilities
Professor Sindi emphasised the importance of having confidence in ourselves and carving our own paths in our lives. She continued to advise us to relax and just breathe, taking time to understand what happens around us:
"It's very important to remain who you are. To retain your identity and your own culture, but also to admire and to respect other cultures."
"Having the confidence to try is the root of all innovation."
3. Being smart isn't enough
As the keynote progressed, it became increasingly obvious the enormous extent to which Professor Sindi is driven by selflessness, contribution to society, and a desire to give back to her community and the world:
"It's not about having a great lab and a comfortable life, for me, it's about what other people need."  
She emphasised to our young aspiring LIYSF students that the true scientists, the ones who really make an impact on the world and the lives of people, aren't just locked away in their lab, but are out interacting with the community to understand their frustrations and needs.
"Who are the true scientists? For me, it's not enough to sit in the lab in a white lab coat. We need to be out there talking to people – to focus on the needs of our communities."
4. Don't underestimate your ability to help
Sometimes, it can be simple to forget the struggles that people face worldwide on a daily basis. Some of us may take for granted the miracles of technology and science, that can help produce the simplest of things like providing us with clean water.
Professor Sindi reminded us not to underestimate the ability to which we can contribute to the lives of those less fortunate:  
"We face many challenges, and your work could save millions of lives."
"You can not do science in isolation… you are changing people's lives for the better"
5. Observation is the fuel for the imagination
To become a great scientist, Professor Sindi advised our participants that we should constantly be on the lookout for new ideas and information that we might have missed. Being innovative with our thoughts and imaginative with our research is vital. 
"We need to keep humanity evolving, and the fuel for scientists' imagination is observation."
We need to watch our data objectively and without preconceptions. Not sticking to old ideas and theories when they become outdated. It's by paying attention to the subtle anomalies, that lead to the most innovative and creative ideas and the biggest leaps in progress and improvements to life on earth.
"I believe that the antidote to our problems lies in firing up our imagination, and aspiring to paint a new vision for the future."
Professor Hayat Sindi delivered an inspiring keynote address to LIYSF at the opening ceremony and throughout, her research and her journey linked in seamlessly with our theme for the 59th LIYSF of "Making Life Better".